Damir Sobota
Recent Works
Trieste, Italy, from 28 january to 8 march 2022

solo exhibition of the 2020 Radoslav Putar Prize Winner
in co-production with the Institute for Contemporary Art (ICA), Zagreb
curated by Janka Vukmir

opening on Friday 28 January, 6.30 pm

Trieste, Studio Tommaseo, via del Monte 2/1
from 28 January to 8 March 2022

opening hours: from Tuesday to Friday, from 5pm to 8pm

access mode: reinforced "Super" Green Pass and ffp2 face mask

info: info@triestecontemporanea.it +39 040 639187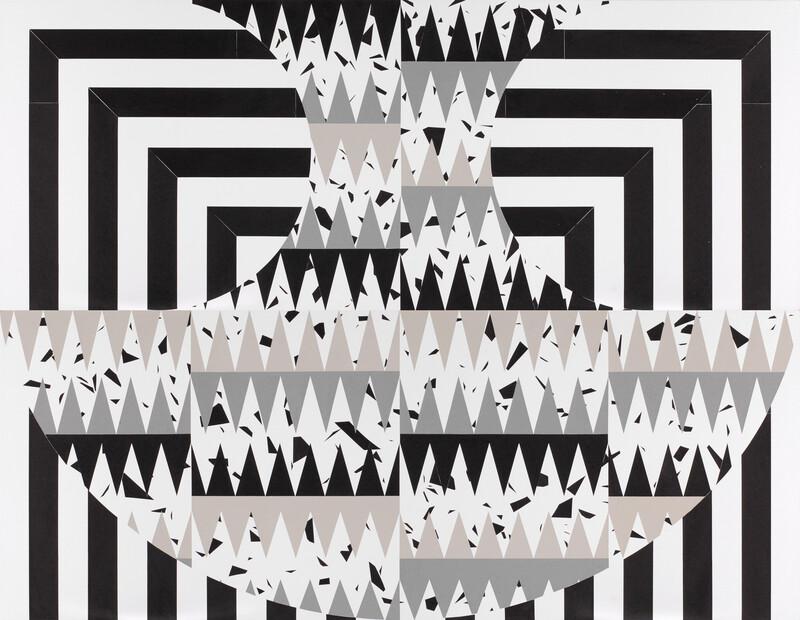 Damir Sobota, Palindrome 9 (9 1/2, 9 2/2) 2019, collage, paper on canvas, varnish 200 x 270 cm
Trieste Contemporanea opens on Friday 28 January at 6.30 pm the Recent Works exhibition by Damir Sobota, attended by the young Croatian artist winner of the Radoslav Putar 2020 prize in conversation with the curator of the exhibition Janka Vukmir.
Damir Sobota's paintings, collages and objects synthesize different traditions of geometric abstraction by concentrating creative process and intuition with an experimental approach: the decisions the artist makes before starting a new work set up an algorithm that will regulate the process from start to finish. of execution.
The exhibition, open until 8 March 2022, is produced by Trieste Contemporanea in collaboration with the Institute for Contemporary Art of Zagreb and presents some works by Sobota belonging to the recent Palindromes series and Systemic Paintings and Objects series, some created by the artist after his participation in the artistic residency at the Residency Unlimited in New York.
The important Croatian Award, won by the artist, is named after Radoslav Putar (1929-1994), art historian, critic and art curator who significantly directed Croatian culture towards the language of contemporary visual arts. The Putar Award is organized every year by the Institute for Contemporary Art in Zagreb as part of the YVAA network – Young Visual Artists Award, and in collaboration with the New York organizations Residency Unlimited (which in 2015 was hired as the organizer of the YVAA program and structure that it hosts the residences in New York) and Trust for Mutual Understanding. The Award consists of a two-month residency in a prestigious US institution and a personal exhibition in Zagreb.
The long collaboration of Trieste Contemporanea with the ICA of Zagreb is consolidated on this occasion by enriching the "Putar portfolio" with a personal exhibition in Italy.
Damir Sobota graduated in 2013 in Graphic Arts at the Academy of Fine Arts in Zagreb. He attended several solo and group exhibitions including, in addition to the Putar Award exhibition at the Salon Galić, Split (2020), Known Unknowns at Westpol A.I.R. Space, Leipzig (2019), HT Award at the Museum of Contemporary Art in Zagreb (2018), Eques at the Tokamachi Central Community Center in Tokamachi, Japan (2018) and several editions of the Biennial of Painting in Zagreb (from 2013 to 2019). From 2015 to today he has taken part in residences in Belgium, Germany and New York. He worked as an associate professor in the Department of Fine Arts and Graphic Design of the Faculty of Graphic Arts in Zagreb. He is the winner of the Radoslav Putar Prize 2020. He Lives and works in Zagreb.
Damir Sobota
Recent Works
solo exhibition of the 2020 Radoslav Putar Prize Winner
in co-production with the Institute for Contemporary Art (ICA), Zagreb
curated by Janka Vukmir
opening on Friday 28 January, 6.30 pm
Trieste, Studio Tommaseo, via del Monte 2/1
from 28 January to 8 March 2022
opening hours: from Tuesday to Friday, from 5pm to 8pm
access mode: reinforced "Super" Green Pass and ffp2 face mask
info: info@triestecontemporanea.it +39 040 639187